Mk7 Golf GTI and GTD - 5 car back to back test
October 2013

The mk7 GTI/GTD have been out for a while now but perhaps not so common on the roads yet - don't mention the build delays!
I recently had the chance to do a back to back comparison of 5 different mk7 GTI/GTD variations. I took it as a chance to think what options I might theoretically pick if I was looking to buy. This isn't much of a review of how the cars drive, I am sure you have read enough in the media already by now.

The spec of each model and a few pictures I took are shown below:

Contestant number 1
Golf GTI - 3dr - DSG - Performance Pack - Deep Black Pearl - Nav Pro - Adaptive Chassis - £31290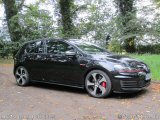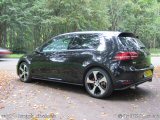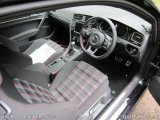 Contestant number 2
Golf GTD - 5dr - DSG - Carbon Grey - Nav Pro - Dynaudio - Winter pack - Keyless - £30840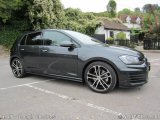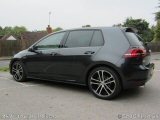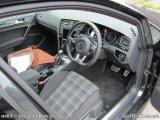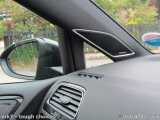 Contestant number 3
Golf GTI - 5dr - manual - Performance Pack - Reflex Silver - Nav Pro - £29730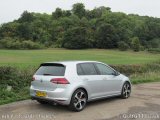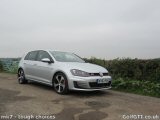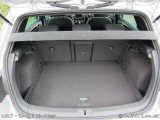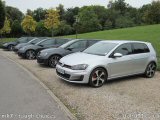 Contestant number 4
Golf GTI - 3dr - manual - Pure White - Nav Pro - Dynaudio - £28345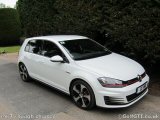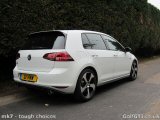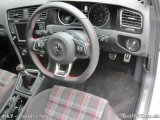 Contestant number 5
Golf GTD - 5dr - manual - Night Blue - Nav - Winter pack - £27555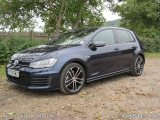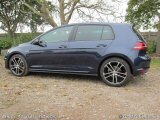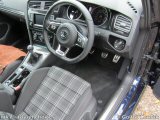 The design is a good move on from the mk6 whilst keeping the obvious Golf evolution. The front end has a lot more presence, the honeycomb grille is still there but the side bumper slats are now much more aggressive. The headlights look superb and the trim feature flowing through from the grille works well. The door handles now being above the crease look so much better. The GTD great in that it looks like a GTI but at the same time is subtely and importantly different.

So, 5 cars to drive around country lanes, I took each for around half an hour - not a bad way to spend the day.

Colour thoughts - Carbon Grey looks awesome but then I have always had a thing for grey metallic cars. Night Blue looks a nice subtle choice. White - well all cars seem to look good in white but would I actually choose it? Silver somehow doesn't look special enough. Deep Black looked great when I jumped in the car but by the time I brought it back it had already gone a shade of road grime grey. It surprised me how good classic Tornado Red looked, parked against the white walls of the hotel it looked awesome.

First few minutes in contestant 1, struck by how well made the interior appears, how great the engine sounds and what would happen if I just drove home in this? Probably not the best idea I guess. The Performance Pack brakes are initially much sharper to bite than I was expecting but once you know I found them very impressive. The car is quick, the DSG so much better than the last time I drove one in a mk1 3.2 TT. The engine note with it's occasional pops and bangs just makes you grin. This is a car for people who enjoy driving.

Into car 2, the GTD, it's still obviously audibly a diesel at low speeds but it does a cracking job of sounding better when going for it. Never mind the dull diesel's of old, this is damn close to being a performance car. Yes you need to drive differently with the power band but this isn't the boring choice it used to be.

Keyless - strange - I have a key, it looks exactly like a normal flip-out VW key but when I get in the car I don't need it. The marks on the plastic of the dash show how automatic it is to jab the key in expectation. If I had no key at all it would make sense more quickly. I assume it's for emergency use to open the doors still with a flat battery but it does seem a strange way to spend £355.

I'll confess to not remembering to mess with the adaptive dampers in car 1. I think I would need to have a good comparison of with and without before spending £800 there. The standard suspension really impressed me - sure, visually I would have it sitting a touch lower but from a driving point of view, nothing but praise for the standard option.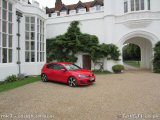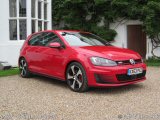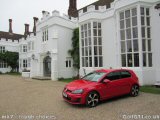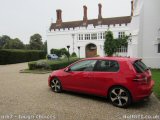 On to car 3, the first with 3 pedals, how does this work again?! Ah yes, another Performance Pack car, into 3rd gear, 3k revs and go for it, sounds incredible, real deep bass engine note. The electronic handbrake confused me for the first time here, not seeming to work as expected. I guess with the DSG option it's all much more connected - it's on, foot on the brake, change from park to drive and as you take your foot of the brake the handbrake it's off automatically. In a manual car, on a level surface, I wouldn't think to put my foot on the brake when taking the handbrake off. All 3 cars so far had the full-fat Navigation Pro option and it certainly is a great system. Big touch screen interface, easy to swap between features but is it worth a whopping £1725? It makes the dashboard look very premium, speaking of which the dials and central display look superb. The cabin is a great place to be, the slight angle of the centre console towards the driver, without getting too 'Alfa' is good. The steering wheel feels just the right size, the stitching and chrome trim look excellent.

Car 4, manual again but no Performance Pack. Can you actually tell? The 10ps, probably not. The brakes do feel different, whether actually better is hard to judge. I mean they have to be really don't they but is there anything wrong with the standard items in general use? Then the differential upgrade, well I tried to power it out of tight turns to compare but the grip in the standard car was too good. I am sure with more time and the right environment this would be much more obvious though. So £980 for 3 things that it's arguably hard to notice you have. Would I choose it - too right I would! This car had the Dynaudio option and also Nav Pro. I only had the radio to test this with but I thought the Dynaudio option was a significant improvement on standard. You may well be better spending the £525 on aftermarket audio upgrades but for the ease of factory fit this could be a good choice.

Finally to contestant 5, a manual GTD. The first car to have the lesser navigation option. At £735 I couldn't recommend it. Sure, maybe I had been spoilt previously but the screen just isn't sharp enough. For me, it would have to be £1725 on the top spec option, or don't bother and keep the basic touch interface and a £100 TomTom. What else - the interior trim - don't get leather! The standard interior in both colour versions is so good, I can't understand why you would ever spend £1695 to lose that tartan. Maybe if you could spec Recaro CS in lively colours perhaps, but the normal seats in leather, no.

More boring stuff and not exactly scientific but doing roughly the same roads, driving enthusiastically, I achieved in cars 4 and 5 - manual gti 25mpg, versus manual gtd 44mpg. A huge gap. The GTD is a genuine alternative but how to choose, well low miles definitely the GTI, high miles definitely the GTD but where in between is the line? It's a tough one to call and needs you to get busy with a spreadsheet.

Force me into a decision? GTI - 3dr - DSG - Performance Pack - Tornado Red - Nav Pro - Dynaudio - now where's that 30k? Or then again maybe a Carbon Grey GTD with 19"'s...

Thoughts? Join in: www.golfgtiforum.co.uk